"There's something unique about the little things that make a house a home – something you almost can't quite describe. Maybe it's a family portrait on the mantle or art plastered on the refrigerator, a well-worn mat at the front door or the perfect light fixture (found on clearance) over the dining room table. It could be a favorite memento from a family vacation on the bookshelf or a prized work of art displayed on the living room wall. Whatever it is, it adds charm and personality to everything that happens in your home."
Belvedere
This is exactly what Belvedere is all about. The ability to add
that little touch of personality to help make your house a home, a haven in a busy world and unique from every other.
Belvedere has amazing wall art to make your kitchen, entry, living room, nursery or family room stand up and shout!
I was introduced to Belvedere when my mom purchased a wall quote for her kitchen/dining area. I never thought of myself as a wall quote kind of girl but once I saw my mom's I was immediately in love. It was so simple but classy at the same time and it added that perfect touch to the room as if it was an accessory all of its own. It said exactly what my parent's home makes me feel like. Well, now its my turn and I would like to introduce you all to my new kitchen wall quote ( I took the picture in December which is why its decorated a little). I thought it wold be fun to add a personal touch from my blog to the kitchen/breakfast area. Something I truly believe and something I try to instill in all of you each week which is, "Be Fearless in the Kitchen". You like it?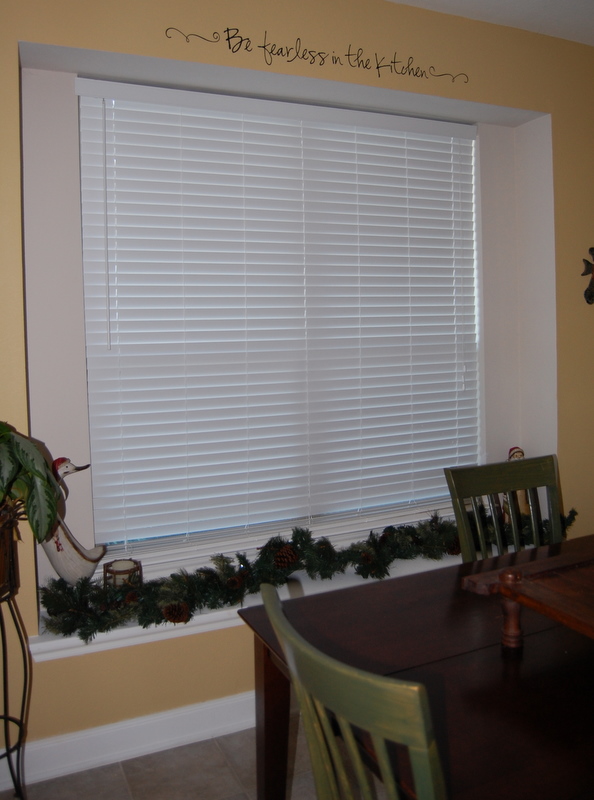 Girls, its a new year and I don't know about you but with each new year I get decorating happy and decide to change things up a bit around the house. A new year = a new look and you can easily change the entire feel and look of your house and a room without spending a fortune on furniture or accessories. How you might ask- Belvedere! From wall quotes for the kitchen or living room to adorable phrases to add that special touch to your nursery or kids rooms, Belvedere has it all! Look how cute this nursery is with the wall quote. Something so simple but stands out so much!
Now you didn't think I would let you leave here today without throwing in a GIVEAWAY from Belvedere did you? Belvedere has graciously offered one lucky reader not only a free $50 dollar gift certificate but ALSO a free kitchen wall quote! AMAZING! Just think of it as a late Christmas present! There was no way for me to include all my favorites but below are just a few of the quotes from other customers homes. Plus, get to know the creative minds behind Belvedere. A wife and husband team who truly know how to work together!
Belvedere has tons of quotes ready for you to select for your room of choice as shown below but remember you can always
make your own quote and decal at their customization shop.
Perfect for that spot in your entryway that doesn't necessarily need a picture or mirror but something more simple.
1) Tell me some basic info about yourself and your business partners.
We're a small, family company.  My husband is getting his PhD in political philosophy while also managing the business and web-development end of Belvedere Designs.  I do all of the designing and creative work – along with being a mum full time (we have a 3 yr old boy and another due next week!)  We love what we do and have been so rewarded in the last few years as our out-of-the-front-room creative endeavor has grown to what it is now – a thriving home design and decor business with the potential to add life to any room in your house.
2) Where do ya'll hope to see your business going?
I'd love to be able to develop to the point where I can spend all my time creating new designs (I mean really – who wants to deal with accounting?).  Custom requests are our favorites because it allows us so much expression of creativity that is still focused on meeting the client's expectations and literally making their idea real.  We'll keep growing and expanding our ideas and designs and offerings because we know everyone wants to have a lovely creative space to call home – while working within the family budget without giving up an arm or a leg.
Some of my favorite quotes are those for the kids room or play room. Much less costly than tons of accessories and loads of paint!
3) Where do ya'll find inspiration?
Everywhere!  Magazines and online blogs are full of inspiration in color , typography, and design.  I love cookbooks for good design (and I promise I'm not just saying that because you're a cooking blog!); they have excellent graphics with lots of information and the photos/design style are always fresh and clear and easy on the eye – and they come in so many styles: American south, fancy french, breezy Italian.  In terms of finding quotes and sayings to use – there are all kinds of motivational quotes all around us every day – we've learned to recognize them and find inventive ways to create designs that will appeal to all.  And of course, we're continually inspired by our customers.  Their ideas and visions have cbeen the impetus behind many of our most popular designs.
4) What has surprised you the most about the business?
1.  How much we enjoy working with people and how so many of our best ideas come from custom requests and suggestions.
2.  How much work it is 'behind the scenes.'  I mean, you start out with this brilliant idea and you know you can create it and make it happen – but then you have to worry about the business and accounting and advertising and web design and marketing and, and, and.  It's a darn good thing I have a husband who's a whiz at all those things so I can stick to the fun stuff!
Last but not least Belvedere doesn't just do quotes for walls but they tailor to fit your needs with decals for frames, businesses and even auto and family stickers!
One of the best parts of Belvedere is there $5 dollar shipping rate. No matter the size or price, everything ships for $5 dollars ONLY! Awesome huh? Get this, they also have a great design blog where you can check out new ideas, customer photos and get inspirations on how to incorporate Belvedere designs in your home!
Giveaway Rules: giveaway ends 1/19/2011 at midnight and winner will be announced via email. In the even that the winner does not contact me in 48 hours of winning then I will pick a new winner.
1) Must be a follower of Kitchen Belleicious
5) Blog or tweet about the giveaway (2 extra entries)